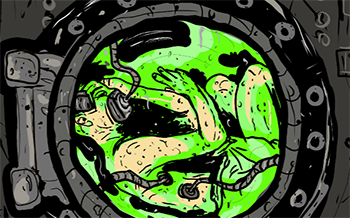 Do you know what the worst data breach of all time was?
Think back over the last few years. Do you think it was Sony? JP Morgan Chase? Office of Personnel Management? AdultFriendFinder? And what makes one data breach worse than the next? The type of company? The type of data stolen? The notion of that data being used to threaten the national infrastructure?
It's tough to know which kind of theft poses a bigger threat to society at large. You may say the OPM breach was huge because it put the IDs of millions of public servants and other regular people up for sale, endangering their privacy and personal safety as well as their digital identities. But what about the case of the corporate officer of an eleven-figure energy company whose data on AdultFriendFinder got accessed in a breach?
Put your tinfoil hat on and follow the ripples out on that one. What could a bad actor do to manipulate — oh I don't know — purchasing decisions? Or green-lighting potentially controversial energy projects?
What we need are the kind of people who live and think in an asymmetric world in order to deal with the kind of asymmetric attacks we have increasingly seen in the last few years. What if we could get someone on the horn who is as asymmetric as anyone you'll ever meet? Today might be that day...
On this week's episode of InSecurity, host Matt Stephenson sits down with Robert Willis to jump all around the world of hacking, red and blue teaming, and the world of cybersecurity writ large. And then, as a special bonus, we dig into the new world Robert is creating, the Paraneon Universe, a cyberpunk comics universe written by hackers for hackers, where the tech is legit. We wouldn't have had flip phones without Star Trek. Who knows what Robert and Pareneon are going to offer that will change the world?