As organizations are making plans to extend working from home through summer 2021, how can employees and IT teams better protect their devices and networks? Join BlackBerry for a webinar on October 13 to learn more about how endpoint security can be implemented and improved to protect your organization from breaches.

Join Brian Robison, Senior Director of Product Marketing and Chief Evangelist at BlackBerry, and other security leaders, to find out more about:

COVID-19's impact on home network security
Why attackers are targeting the endpoint
Why your connected devices may be at risk and what to do about it
How to seamlessly integrate your endpoint security with existing solutions
Identifying threats, solutions, and breach prevention best practices

REGISTER NOW
October 13, 2020
8:00 AM PT | 11:00 AM ET | 4:00 PM BST | 5:00 PM CEST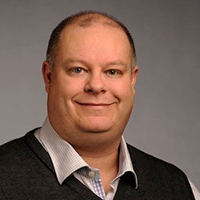 About the Speaker:
Brian Robison
Senior Director of Product Marketing and Chief Evangelist, BlackBerry
Brian Robison (@CylanceSecTech) has over 20 years of cybersecurity experience. As Senior Director of Product Marketing and Chief Evangelist at BlackBerry, he is focused on educating and inspiring the world. Robison hosts live Hacking Exposed events, where he demonstrates the tools and techniques of real-world threat actors. He is a regular speaker at industry events such as RSA, Black Hat, thought leadership forums like ISC2 Think Tank, and is highly sought after to speak at partner events.

Prior to joining BlackBerry, Robison worked to defend organizations from mobile security threats, spending three years as a Director at Citrix XenMobile and two years driving enterprise strategy at Good Technology.

Robison also spent over six years at McAfee with a special focus on endpoint security-leading efforts to modernize ePolicy Orchestrator. During this time, he also managed vulnerability and policy compliance solutions. His early career ranges from a six-year period with Tripwire, Inc. to cutting his professional teeth in consumer electronics at Diamond Multimedia.