A Zero Trust Architecture provides a foundation for assuring secure remote network access management, something that's never been more important than it is today, with the expansion of enterprise attack surface following the rapid increase in the number of remote workers following the COVID-19 outbreak.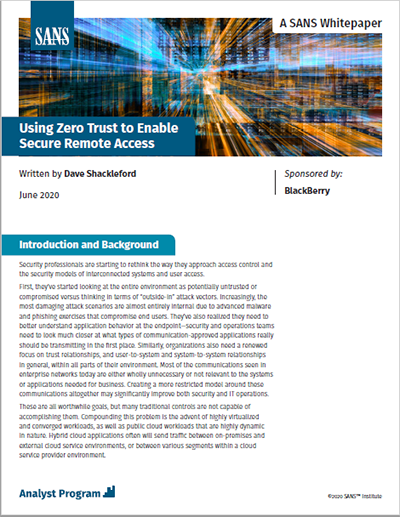 Just about any form of perimeter security is pointless on its own given the complex environments enterprises have today, and that's likely even more true for those in the near future.
The concept of Zero Trust is intended to enhance conventional thinking around perimeter security by taking the novel approach that everything and everyone should be assumed to be untrusted until authenticated, and that authentication should not be limited to a one-time event.
Like most things worth doing, implementing a Zero Trust access control model isn't necessarily a simple task to undertake.
Organizations who understand the tremendous benefits to be realized and are determined to implement a Zero Trust architecture can expect to encounter several challenges along the way, including:
Technology silos: Legacy operating systems and applications, development tools and platforms, third-party applications and services along with "homegrown" applications and many others


Lack of technology integration: Hurdles can emerge with owned and third-party platforms - any issues with these integrations can easily derail a Zero Trust implementation


Rapidly changing threat surface and threat landscape: This can potentially lead to challenges with technologies that are limited in deployment modality
Zero Trust is a model in which all assets in an IT operating environment are considered untrusted by default until network traffic and behavior is validated and approved.
The Zero Trust approach does not involve eliminating the perimeter; instead, it leverages network micro-segmentation and identity controls to move the perimeter in as close as possible to privileged apps and protected surface areas.
The Using Zero Trust to Enable Secure Remote Access white paper provides guidance for implementing a Zero Trust architecture based on your organization's goals, the intended scope of its application and timeframe for implementation, and the technologies available today to successfully implement a Zero Trust access control model.