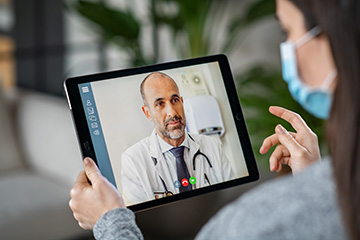 As the COVID-19 pandemic progresses, you may find yourself looking back in wonder at all the fun (and not-so-fun) things you used to do before the outbreak hit.

For instance, knowing how so many illnesses are spread by being in close proximity to others, how do you feel now about going to the doctor's office in person? Remember when that was a thing people actually used do that? Did we really need to do that as often as we did – or did we just do it because we thought we had no other option?
According to our friends over at MedicalEconomics.com, patients are more than ready for easier access to healthcare professionals. A new study on telemedicine adoption shows that in the early days of COVID-19, 71% of patients had considered telemedicine as a diagnostic option, and half had already gone through with a virtual appointment. Patient adoption at the beginning of 2020 was up 33% over the previous year, and venture capital funding for telemedicine companies surged in the first quarter of 2020 to $788 million. The telemedicine market as a whole is expected to reach $185.6 billion by 2026.
Here's a tough question: after the pandemic passes, will telemedicine continue its meteoric rise, and (like remote work) become fully accepted as the new normal?
On this week's episode of the InSecurity podcast, Matt Stephenson has a chat with Pete Fronte, Founder and CEO of Altura, a 20 year old company which has built a mechanism that connects medical clinical studies with the people who need to be studied. In the contemporary world of telehealth and everything-from-home, people need that access now more than ever.

COVID-19 is the new 'real-life horror movie' on everyone's minds. But people still need access to studies on cancer, heart disease and every other healthcare issue that existed prior to 2020… listen to the podcast to find out more.