The BlackBerry Incident Response (IR) team has years of experience successfully combating cyber attacks for clients around the globe. During this time, they have accrued a deep understanding of the common security mistakes organizations often make (and threat actors seize upon) and would like to share them with you to increase your security knowledge.
Join BlackBerry on October 13 at 11:00 AM PDT for a new webinar, Where Hindsight Is Always 20/20, an informative discussion on avoiding security lapses. In this webinar, Mark Stevens, BlackBerry Incident Response Technical Director, will discuss:
How to avoid common security mistakes that threat actors seek to exploit
Ransomware and other financially motivated attacks
Traits that make a target appealing to attackers
Actionable recommendations for preventing cyberattacks, decreasing the impact and increasing resilience


REGISTER NOW
October 13, 2020
11:00 AM PDT | 2:00 PM EDT | 7:00 PM BST


One of the most valuable outputs from incident response investigations are recommendations to prevent the mistakes of the past from repeating. The BlackBerry Incident Response team have seen a pattern of common issues and learned many lessons over the years, which we would like to share. Register for the Where Hindsight Is Always 20/20 webinar today.
About the Speaker: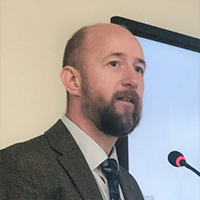 Mark Stevens
Technical Director of Incident Response, BlackBerry
Mark Stevens is a hands-on Technical Director at BlackBerry, based in the U.K. Mark specializes in computer forensics and incident response, and is responsible for a team of world class consultants who focus on APT/ nation-state threat actors, and high-impact ransomware containment and investigation situations. Since becoming the first incident response consultant in EMEA for BlackBerry, Mark has worked on and lead many projects including compromise assessments, global APT incident containment, and ransomware attack remediation.
Mark has over 20 years of information technology experience working for global blue-chip institutions, with the last 13 years focused exclusively on information security. Prior to BlackBerry, Mark spent three years working for Mandiant as a senior practitioner leading incident response and compromise assessment engagements. Mark was previously the lead EMEA security consultant for IBM and Q1 Labs for QRadar, and before that, he worked as the global architect/ technical lead for security monitoring solutions at JP Morgan Chase.
Mark has a wealth of experience in security, cyber threats, monitoring, and forensics in some of the world's largest and most complex enterprise environments. He has a thorough understanding of incident response, malware, IOCs, the TTPs that attackers use, and how to combat them.