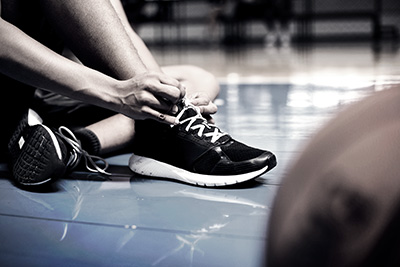 Legendary UCLA Men's basketball coach, John Wooden, famously instructed his team every year on the first day of practice how to put on their socks and tie their shoes.
"I think it's the little things that really count," says Wooden. "The first thing I would show our players at our first meeting was how to take a little extra time putting on their shoes and socks properly. The most important part of your equipment is your shoes and socks.
You play on a hard floor. So, you must have shoes that fit right. And you must not permit your socks to have wrinkles around the little toe—where you generally get blisters—or around the heels.
It took just a few minutes, but I did show my players how I wanted them to do it. Hold up the sock, work it around the little toe area and the heel area so that there are no wrinkles. Smooth it out good. Then hold the sock up while you put the shoe on. And the shoe must be spread apart—not just pulled on the top laces. You tighten it up snugly by each eyelet. Then you tie it. And then you double-tie it so it won't come undone—because I don't want shoes coming untied during practice, or during the game.
I'm sure that once I started teaching that many years ago, it did cut down on blisters. It definitely helped. But that's just a little detail that coaches must take advantage of, because it's the little details that make the big things come about."
~ John Wooden, as told to Devin Gordon

This week's episode of the InSecurity podcast is about leadership and fear. We take, as a starting point, a simple question: what are you afraid of, and why?
As leaders, the answer to this question can be very revealing. At a time when the world has been turned upside down and we've all been forced to change the way we work, it can seem like everyone is looking at you for direction. Do you panic? Or do you focus on the little details that can make all the difference when it comes to surviving a crisis?
In this week's episode, Matt Stephenson chats with Jillian Lappetito, the President of Leaderology and a member of several World Champion Water Polo and NCAA teams. Jillian grew up inspired by the mentorship of her Army Ranger father and several world class coaches who she worked with one-on-one. As a result, she is now able to use her life experiences to mentor local business leaders and help them meet any business or personal challenges in their lives.
In this podcast, Jillian shares her thoughts on a variety of topics, including leadership, digital marketing, and managing business risk. She draws comparisons between the world of elite sport and the world of business: both areas are highly competitive, and leaders in both fields can learn a lot from the other.
For most of us, the crucial question will be: what does it take to reach that level of performance? How do you maintain the dedication needed to build awareness and reach world class level in a sport or business that is little known outside of a niche community?
Jillian's responses to these questions are refreshingly humble. As the President of Leaderology, Jillian has much experience in effective digital marketing strategies for today's changing era. With over 90% of companies now relying on social media for the bulk of their marketing strategies and marketing being more data driven than ever before, many smaller local businesses lag behind larger organizations when it comes to creating brand awareness outside of their specialty communities. Jillian discusses the steps smaller businesses can take to reverse this and build their presence to their customer base on a global level.
Jillian points out that the most important quality in leaders and competitors is persistence and purpose. When we work as part of a team, she says, we need to make a commitment to others, so that everyone in an organization can reach their full potential.
The most important thing we can ultimately do as leaders, Jillian says, is to take an approach where we see our primary goal as setting people up for success. By giving people the resources, skills, and knowledge they need to realize their goals and creativity, we can not only bring people together, but also create highly effective teams.
Accomplishing this, says Jillian, means having a shared goal. Different teams, leaders, and organizations will prefer different styles of management – they might prefer to hire those who think like them, or they might prefer a cacophonous diversity of voices. But whichever you choose, your business needs a purpose. It's possible to have a diversity of thought and experiences, but everyone needs to pull in the same direction.
Jillian's unique experiences make her an inspiring mentor, and her thoughts on leadership are well worth paying attention to, whether you think of yourself as an elite competitor or not.