Join BlackBerry on November 18th as Eric Milam, VP of Research Operations at BlackBerry, and Claudiu Teodorescu, Director of Threat Research and Intelligence at BlackBerry, share insights on current campaigns wrought by two significant "hack-for-hire" groups.
The first, BAHAMUT, is a highly sophisticated threat actor responsible for numerous successful disinformation campaigns. The second, CostaRicto, is a campaign run by APT mercenaries targeting large financial institutions in South Asia.
This security briefing will cover:
BAHAMUT's methods and vehicles for spreading "fake news"
Malicious mobile applications
Phishing and credential harvesting methods
CostaRicto's unique tactics and tooling
CostaRicto loader (CostaBricks) and its custom virtual machine implementations


REGISTER TODAY
November 18, 2020
8 AM PT / 11 AM ET / 4 PM GMT / 5 PM CET


This session will help you better understand these techniques, which can help keep you and your organization safe from cyber attacks.
SPEAKERS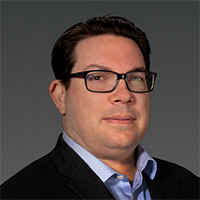 Eric Milam
VP Research Operations, BlackBerry
Eric Milam is the VP of Research Operations at BlackBerry where he and his team track malware threats and threat actors. During his time at BlackBerry, he discovered and published the details of numerous emerging threats and malware variants actively being exploited in the wild. Prior to joining BlackBerry, Eric was a highly regarded Penetration Tester and frequent conference speaker, widely known for his red-teaming exploits.



Claudiu Teodorescu
Director of Threat Research and Intelligence, BlackBerry
Claudiu is the Director of Threat Research and Intelligence at BlackBerry. Claudiu has an extensive background in threat landscape, computer forensics, cryptography, and reverse engineering, leading research projects such WMI and application compatibility-based malware persistence, and Windows 10 RAM page compression. He also serves as an instructor of the Advanced Malware Analysis course at BlackHat USA. Claudiu is an in-demand speaker at security conferences such as DefCon, ReCon, B-Sides LV, and DerbyCon on malware trends.