Compelling Benefits of a Single, Connected-Autonomous Vehicle Platform
Compelling Benefits of a Single, Connected-Autonomous Vehicle Platform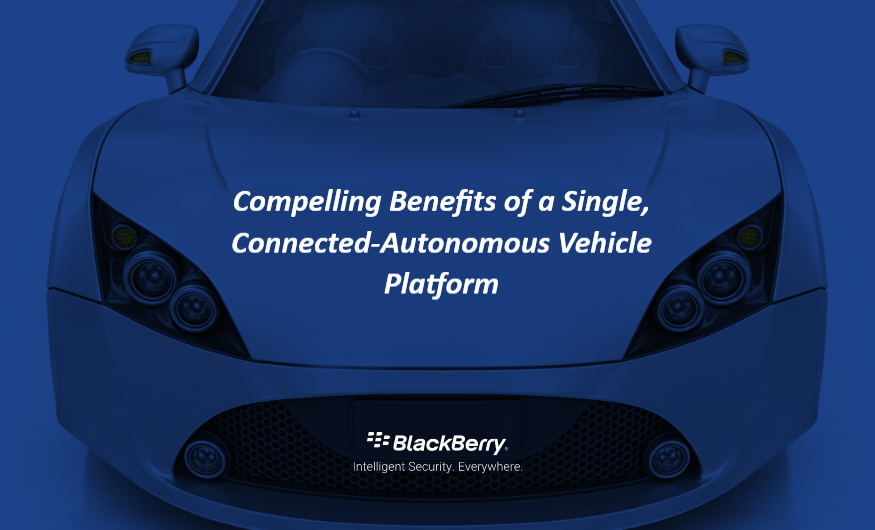 BlackBerry IVY Unifies Cross-Industry Efforts, Enables Automakers and Smart Cities.
A recent Frost & Sullivan report takes a look at the future of software-defined vehicles – and BlackBerry's pivotal role in that future – while examining the many challenges the auto industry faces to produce vehicles capable of delivering consumer-friendly and innovative in-vehicle experiences.
The report, BlackBerry Revolutionizes the Connected-Autonomous Ecosystem with an Industry Leading Edge‑to-Cloud Software Platform for Automakers and Smart Cities, underscores the value of a single connected vehicle platform (CVP), such as that offered by BlackBerry IVY™, to effectively support the auto industry in navigating the typical pain points of the development lifecycle.
There are few truly autonomous connected vehicles currently on the road. This limited number of early models offers a sneak peek into tomorrow's connected driving experience, as well as a glimpse into potential issues that automakers must overcome. The sophisticated software systems that, due to their inherent complexity, will likely need regular updates presents a dilemma since requiring customers to physically visit dealerships for software updates is impractical. In fact, the Frost & Sullivan report states that the path is rapidly being paved for nearly all new vehicles leaving factories within the next five years to be connected to vast software suites that can be regularly enhanced via over-the-air (OTA) updates.
Ongoing 5G deployment will play a major role in keeping vehicles connected and up to date, as well as enabling entirely new business models and use cases. Leveraging artificial intelligence will also help with the development of innovative services, while cloud networks and edge computing are laying the foundation for novel in-vehicle experiences.
Additional concerns for the connected autonomous vehicle evolution to take place include:
Safety – This remains the most important job for automakers working to develop connected vehicles capable of autonomous driving. In all cases, the future of the connected car hinges on it.
Privacy – The Frost & Sullivan report predicts that data produced by vehicles continuously traversing roads will eventually become more valuable than the vehicles themselves – making consumer privacy top-of-mind. The report also predicts that connected car hardware, software and services are expected to represent nearly $20B of new revenue for automakers by 2025.
Security – Until platforms are collaborative and standardized, conflicts between different applications can be significant and potentially hazardous. This underscores the necessity of relying on system-level software such as BlackBerry® QNX®, which "meets rigorous cyber-security and safety certifications in addition to providing the necessary data abstraction layer to empower third-party innovation" in a secure manner, according to the report.
Beyond safety, privacy, and security, the two major areas for advancing the realization of the connected autonomy are collaboration and standardization.
Collaboration
As connected and autonomous vehicles evolve exponentially, so too must the approach of automotive industry participants. In the beginning, a myriad of customized or bespoke vehicle platforms served the unique needs of disparate OEMs and suppliers, but the proliferation of these platforms has since been fragmented. The result has been a patchwork of technology and standards that can greatly impede the growth of connected autonomy, and which can also sharply curb the innovation of developers who are creating new automotive offerings. Multiple platforms also present security threats that may jeopardize sensitive data and vehicle safety.
Ultimately, automakers cannot develop fleets of connected vehicles in a bubble. The successful realization of connected autonomous vehicles will rise from the adoption of a single connected platform – one which is inclusive of as many participants as possible.
Standardization
Although connectivity is becoming the standard in "factory new" vehicles, there is not yet an industry paradigm that establishes norms for data collection, processing, transmission, or sharing. The forthcoming right to repair laws will only increase the variety of third parties developing custom applications across the industry. A common, intelligent vehicle platform will soon become essential as the software complexity in connected vehicles expands from 100 million lines of code to a predicted 300 million by 2030. Connected vehicles will also need to communicate with other makes, models, and brands, joining the intelligent infrastructure that will be integrated in the smart cities of the future.
The key question is this: Are there existing solutions to help accelerate the delivery of connected vehicles and advanced driving experiences?
Navigating Obstacles: The Benefits of BlackBerry IVY
Automakers can begin overcoming the obstacles of collaboration and standardization with BlackBerry. Co-developed in partnership with Amazon Web Services (AWS), BlackBerry created BlackBerry IVY — an intelligent, scalable, cloud-connected vehicle data platform that uniquely meets the immediate needs of industry participants, and can grow over time to create a broad ecosystem. BlackBerry IVY can support multiple vehicle operating systems and multi-cloud deployments to ensure compatibility across vehicle infrastructures, models, and brands.
The report continues, "BlackBerry IVY enables OEMs to abstract away the complexity of connected-autonomous vehicle development and open up a broader developer ecosystem that accelerates innovation without compromising safety, privacy, or security. This has many benefits for all automotive and smart city stakeholders, including OEMs, enterprises, consumers, and government." With consumer demand increasing for greater personalization, automation, and utility from their vehicles, this is particularly evident.
"Automakers and cities alike stand to benefit massively from standardized data access and consistency. BlackBerry IVY is an agile platform that can be modernized with each vehicle make and model, and can be easily updated with new features and applications," states the report. "Rather than creating a new platform for each vehicle iteration, OEMs can build new machine learning (ML) models and intelligent applications based on their unique hardware and software stack in order to launch new business models and services as they see fit."
Industry participants adopting BlackBerry IVY can fuel a self-sustaining ecosystem that will yield competitive advantages (as well as a larger market) by opening innovation to a vast developer community. OEMs developing custom technology and data standards can seamlessly integrate BlackBerry IVY directly within their current schema. Additionally, governments and OEMs can scale the safety benefits of features built on a standardized data platform that fosters secure data utilization among vehicles, infrastructure, and third parties.
BlackBerry IVY: The Future of Connected Vehicles, Now
As vehicles become smarter and best practices in manufacturing are developed and shared between automakers and OEMs, it's clear that the connected future will not be defined by a lone industry participant, but instead by the collaboration of many different developers and operators. Automakers can retain control by deciding how their data is shared and leveraged, but they will need to work alongside other industry participants to realize the full potential of connected-autonomous technology. Value-add and innovation can only be achieved in a standardized, cohesive ecosystem.
Additionally, the report continues, "Breaking down silos across industry participants will unleash the potential of the connected-autonomous future. Due to the increasingly important role played by software and data analytics in the automotive industry, particularly in connected vehicles and their central role in smart cities, there is a need for a reliable framework that can manage and optimize the numerous aspects and requirements of vehicle functions and their drivers' requirements."
The report concludes, "BlackBerry IVY offers a ready-made solution that unifies cross-industry efforts and immediately adds value to public and private stakeholders as they continue to strive toward higher levels of connectivity and autonomy that will revolutionize vehicle experiences, redefine urban life, and deliver unparalleled safety benefits to all road users."
To learn more about BlackBerry IVY, read the full Frost & Sullivan report.