Security and Privacy: Evolving Needs of the Software-Defined Vehicle Industry
Security and Privacy: Evolving Needs of the Software-Defined Vehicle Industry
Get In: The Software-Defined Vehicle Podcast from BlackBerry (Season 2, Episode 4)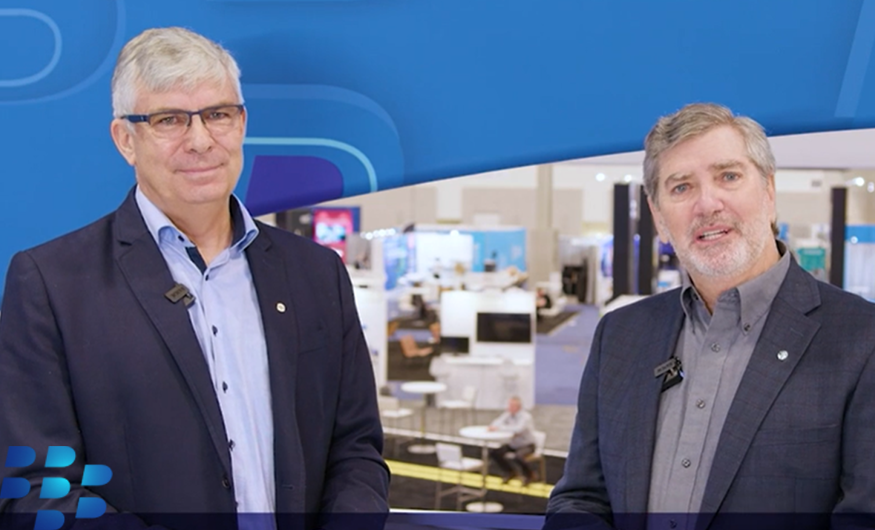 Software-defined vehicles are making headlines, but their exciting new features require a solid, secure foundation. Without it, automotive application development could lay itself open to compromise and attack, with potentially disastrous effects on the entire automotive market. The Software-Defined Vehicle revolution requires software infrastructure with a proven track record of safety and privacy.
Welcome to the fourth episode in Season 2 of "Get In: The Software-Defined Vehicle Podcast from BlackBerry." This series explores the possibilities created by — and technologies behind — the revolution in global transportation we are witnessing today.
Our video podcast, recorded during the 2023 Consumer Electronics Show (CES), features BlackBerry Chief Technology Officer Charles Eagan, who is leading pioneering efforts in the delivery of secure platforms for automotive and IoT (Internet of Things) applications. In this interview, Eagan describes leading the incubation of the BlackBerry IVY® cloud-connected platform, and how BlackBerry is delivering the features required to drive a secure software-defined vehicle (SDV) future.
Click below to watch Get In: The Software-Defined Vehicle Podcast from BlackBerry, Season 2, Episode 4.

From Foundation to Features
"BlackBerry's involvement with automotive goes back decades," notes Eagan. "QNX was heavily involved in the early days of automotive software technology. When BlackBerry acquired QNX in 2011, it just accelerated." Eagan himself played a big role in evolving the platform to assume a dominant position in the real-time OS (RTOS) market.

"BlackBerry QNX, in terms of functional safety, connectivity, and a high-trust embedded operating system, is the perfect foundation" for SDV development, Eagan says. "Our safety-certified hypervisor provides a rock-solid platform for automotive to build on. Then, you overlay that with the exciting IVY partnership with Amazon to build a reference platform for the future."
The cloud connectivity and enablement for edge computing that IVY™ and BlackBerry® QNX® provide are pivotal to realizing the full potential of SDV development, but these capabilities underscore the need for building privacy and security into automotive software, from the ground up. "If we don't have ways of getting data off vehicles in a private and secure way, it will be very hard to add value outside of the automotive original equipment manufacturers (OEMs)," Eagan notes.
Exporting data safely out of the vehicle is only half the battle, however.
"One of the challenges for software-defined vehicles is how we get software on the vehicles in an orderly way," explains Eagan. "Historically, it was always the automotive OEMs or the tier ones that were needed to do the software," he continues, acknowledging the limitations this puts on much of the third-party development community. "We want to create an ecosystem where you can provide content and value in a safe and secure way, which is important for this market to thrive."
This is an area where BlackBerry's smartphone heritage comes in handy. "When we first had mobile phones, and we started talking about app stores and ecosystems, we could not imagine the top 200 applications that would be essential," Eagan says. "Now we have a blank canvas for the automobile today. All these wonderful content creators will have a way to bring their innovation into a platform — without the automotive OEMs doing all the heavy lifting and integration."

Having a more diverse ecosystem for automotive app development will also augment the OEMs' software efforts, allowing them to deliver more value to their end customers. "There is even the potential of having applications that would work in different OEMs' automobiles or across different models. There's a high amount of reuse that's possible, which reduces costs and increases reliability," Eagan says. "It is also beneficial to the consumer because they have cool features that can be brought to their automobile. We're at the cusp of the era where automobiles will start getting better over time, rather than degrading, much like our phones do."
Safety First: Innovation Through Trust
Eagan comments that BlackBerry is in a unique position to enable this new era. "It really builds on the functional safety of QNX. Compromised security in a multi-ton vehicle travelling at 60 miles per hour could be very serious.
"Everything that goes into the car has to go through a strict approval process. You need to be able to introduce features into a vehicle without compromising safety."
Click below to listen to Season 2, Episode 4 of "Get In: The Connected Vehicle Podcast from BlackBerry."