Why the Cloud Is Essential to the Automobile's Future
Why the Cloud Is Essential to the Automobile's Future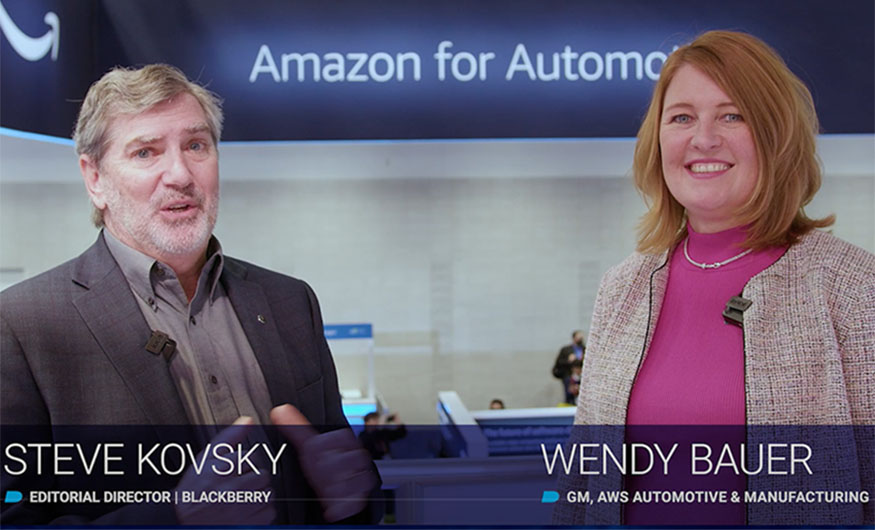 To reach its full potential, the software-defined vehicle (SDV) revolution sweeping across the automotive industry must increasingly rely on the cloud. Despite the super-computer-level processing power built into the new generation of automobiles, the two-way flow of car-to-cloud and cloud-to-car information will be critical to enable exciting new services, from enhanced multimedia to autonomous driving.
Delivering these emerging capabilities requires a combination of proficiencies in both automotive and cloud technologies, necessitating the best of both.
"We see the industry realizing that vehicles can be a location where you combine the best of physical and digital worlds," says Wendy Bauer, general manager for automotive and manufacturing at Amazon Web Services (AWS).
As Bauer told us during our video podcast recorded at this year's Consumer Electronics Show® in Las Vegas, her team is committed to providing carmakers with all the tools they need to create those best-of-both-worlds experiences that car buyers are beginning to expect and demand.
Watch "Get In: The Software-Defined Vehicle Podcast from BlackBerry," Season 2, Episode 5, below.

"We always want to focus deeply on the trends in the industry, along the entire value chain, from end customers and OEMs (original equipment manufacturers), back to auto retailers and everywhere in between," says Bauer. "We also recognize very clearly that the speed of innovation is key."
Speedy innovation has been the name of the game in the world of tech for decades, but that agility does not necessarily come naturally to the industrial and manufacturing sector. This is where the flexibility and scalability of the cloud can come into play — and be a game-changer.
"At AWS, we focus on giving our customers and partners tools to accelerate innovation, but we really want them to be able to pivot their resources to focus on their points of differentiation — and software is now becoming that."
In essence, automakers are finding they must reposition themselves as software companies. "But how do you do this?" asks Bauer. "How do you develop a different culture, and what does that mean for your company?"
It's no easy task, but AWS can help. "In our role, we work with some of the largest automotive companies around the world, and new startup companies across the entire value chain, who are thinking through different ways to do this," Bauer says. "You see 'culture, trust, collaboration,' a phrase that AWS says often, but you may not appreciate the meaning."
Changing culture, gaining trust, creating a path for meaningful collaboration all require gaining a deep understanding of the customer's needs, then finding a way to meet them. "We listen to our customers and the problems they're asking us to help them solve. A lot of that is now getting very industry-specific," Bauer says. "In healthcare, automotive, industrial, and financial services, we need to know the industry's disruptive problems, their pain points. We can then figure out how to help.
"So we talk about automotive purpose-built offerings. We think about car technology and how complex automotive software is. Just managing the tool chains is incredibly complex, before you even get to the application and all that goes into a car."
Solving this complexity is something that cloud infrastructure, and a foundational software platform and support system, can effectively provide. And doing so actually liberates the carmakers from having to build the underlying software and architectural support structure, allowing them to focus on more important, brand-defining technology.
"We want to do the heavy lifting," explains Bauer, so automakers can focus on creating software features that can win the hearts and minds of consumers. This makes sense, even to traditionally partner-averse OEMs, because the back-end, "heavy-lifting" part of the software stack "isn't the point of differentiation, and it's not the applications that really delight the customers; it's just what enables it to come to life. That's absolutely what we're focused on."
Seeking the Right Partners
For AWS to establish its role in the automotive value chain, it needed a partner with deep, industry-specific expertise in automotive software. The ideal partner would bring long experience and a wide intellectual property portfolio focused on delivering purpose-built automotive solutions. In particular, the partner would need to be a respected, existing supplier to the highly regulated automotive industry, where safety considerations are always foremost. They found such a partner in BlackBerry.
"There are many great partner companies in the industry ecosystems we're working to support," Bauer says. "Our relationship with BlackBerry is a perfect example of how we think of a strategic partner in the industry that our customers have a long-lasting relationship with to jointly achieve their goals. When we know you are much better suited for us based on your experiences, we want to bring the best of both companies together."

It was this symbiotic spirit of collaboration between the two companies that resulted in creation of BlackBerry IVY®, a jointly developed in-vehicle software platform that enables automakers and their partners to more easily harness vehicle data, and innovate more effectively. BlackBerry IVY software abstracts data collected in and by the car, enabling processing both "at the edge" and in the cloud.
BlackBerry's partnership with AWS to develop IVY™ is specifically aimed at leveraging the potential of ubiquitous cloud connectivity. But this shift is still in its infancy. "It's still early days for what's possible, which is exciting," says Bauer.
"At AWS, we say it's always Day One."