Enabling the Next Generation of Automotive Software Functions
Enabling the Next Generation of Automotive Software Functions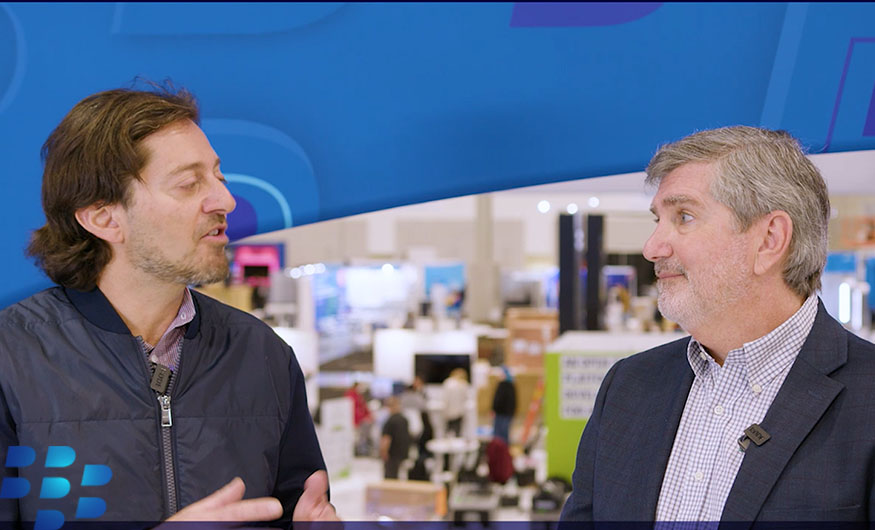 Delivering what car buyers want from their new vehicles increasingly comes down to sophisticated onboard applications running in the vehicle, and the features and experiences those apps enable. However, this reliance on software to delight drivers and induce brand loyalty is still a relatively new phenomenon for automakers, and the expertise needed to create and configure the complex middleware that facilitates these new applications and services may not exist in-house.
Welcome to the sixth episode in Season 2 of "Get In: The Software-Defined Vehicle Podcast from BlackBerry." This series explores the possibilities created by — and technologies behind — the SDV revolution in automotive we are witnessing today. In this episode, we revisit the 2023 Consumer Electronics Show (CES) to talk to Vito Giallorenzo, senior vice president and general manager of BlackBerry IVY®, about the platform his team has developed, and how it's giving automakers the solid foundation they need to deliver the advanced connected software features their customers crave.


Giallorenzo's career journey at BlackBerry parallels the steeply inclined trajectory of the IVY™ platform itself. "I was hired to run corporate development for our CEO," he says. "One of the tasks was to build a strategic partnership with Amazon." This partnership quickly led to the co-development of BlackBerry IVY. Progress after initial discussions was rapid, with the general availability of BlackBerry IVY announced in June of this year, less than 24 months after the first code was written. "It's shipping in vehicles in China next year with our first design. Starting something from zero and getting the result is always very exciting."
However, BlackBerry IVY didn't begin from a complete standing start; it was built on the companies' existing expertise and leadership in their respective domains. "We were lucky because we could benefit from several decades of automotive success with our QNX® core platform," explains Giallorenzo. "Amazon saw the technology and the credibility we have within the industry. We were the natural partner. We had that starting point."

BlackBerry IVY is now shipping with its first commercial customers. "The platform is ready to be installed," Giallorenzo confirms. However, even prior to that, an earlier version of BlackBerry IVY was running very successfully in Shanghai, China. "It's working very well with our customer Dongfeng," one of China's largest car makers. Commercial production of Dongfeng's vehicles powered by BlackBerry IVY is now scheduled for the end of 2023 or the beginning of 2024.

Several digital cockpit implementations utilizing BlackBerry IVY are also entering the market, including designs from German industrial and automotive giant Bosch and Shanghai-based telematics provider PATEO. "It's also available as a virtual platform with Amazon AWS," adds Giallorenzo. "It's already integrated with all of our ecosystem partner solutions — like KPIT, Car IQ®, and Electra — so every customer can try and buy IVY if they want, either virtually through an AWS instance or physically through Bosch or PATEO."
However, the digital cockpit is just the tip of the iceberg when it comes to leveraging a platform that enables access to data from all the sensors in a modern vehicle. "IVY can run in every domain of the car, so it can run in the cockpit or in the ADAS (advanced driver assistance system), controlling the gateway," explains Giallorenzo. "That allows any developer of any application to create a software sensor that is very easy to build, drop it into the car, and that sensor will gather all the data. It can process the data and return whatever insight the application needs. It's a probe into a car for any application developer. We make it very easy to implement, where it wasn't so easy in the past. Developers can develop these features without knowing anything about the underlying vehicle or signal. They just ask for what they want, and the car will return that insight."

This means that, unlike in the past, developers don't have to engineer their own ways to harvest this information from the car. An example of this was inside a modified Jeep at the BlackBerry booth during CES® 2023. "The Jeep® Grand Cherokee has a Bosch cockpit with QNX and IVY installed in it," Giallorenzo states. "IVY is powering a few solutions, one of which is predictive maintenance for tire and brake wear." These are normally things a mechanic would need to physically inspect for. "Now it's done via machine learning models provided by one of our German partners and portfolio companies. Their machine learning model predicts, based on your driving, when your brake pads or tires need replacement. It's all done through software sensors that run in the car, which they translate into IVY," he says.

"Another solution is secure payments, powered by another one of our portfolio companies and partners called Car IQ," says Giallorenzo. "Through IVY and machine learning sensors in the vehicle, they provide payment authentication and merchant identification for that car. The car pays the same way your credit card is authenticated by a chip reader. The car is authenticated by IVY machine learning at the hardware level, making payments as secure as possible. IVY is also integrated with Amazon Alexa, so you can use Alexa to interact with IVY. For example, Alexa will tell you what the brake pads' status could be," he explains.

BlackBerry also revealed at CES details of the digital cockpit solution from PATEO, running in Dongfeng's new VOYAH electric SUV model. The cockpit design features a battery management solution for EV range prediction and optimization, which is powered by another of BlackBerry's IVY™ Fund portfolio companies, Electra Vehicles in Boston.

The first generation of products running on BlackBerry IVY address the most important pain points that consumers have experienced with new software-defined — and often electrified — vehicles, such as range anxiety, but so much more is possible. "It's a general platform," he says. "You can build any application you want, and it will let you take data out of that system. I make the analogy of mobile phones: I don't think any of us 20 years ago even imagined the types of things we do with phones today." But once the smartphone platform's data was made available in the cloud, developers could harness it to build the rich selection of applications we now enjoy on our mobile devices. The same thing is happening with cars.

"We know that right now there are very specific needs that automakers, fleet managers, drivers, and passengers have," emphasizes Giallorenzo. For example, "They want to save money when the car is built, or when they maintain and operate it. But they also want to generate new revenue from things like insurance, maintenance, and paying for parking." However, there is still a lot of friction involved with implementing these new features and services. "It's not as easy as with a phone. IVY will make these applications better."

IVY will also make developing and refining "net new" in-car software applications easier. "We are already working with a lot of automakers that are trying to do more advanced things with IVY, like improving autonomous driving and scene detection algorithms," Giallorenzo says. "For example, the car needs to know why your ADAS didn't work, why the car broke down, or why there was an accident. We can detect that something is happening, process that data, and send it back to the developers, who can then improve their machine learning models."
Looking forward to CES 2024, Giallorenzo expects many more advanced applications powered by BlackBerry IVY to be on display. "We will definitely have more customers and more use cases running on IVY," he says. "We feel very good about our pipeline and the value that our product offers to customers." In addition, "We're going to have more partners. There's going to be more safety, or maybe even autonomous solutions. There's going to be more around commerce and insurance. There will be lots of new applications for IVY."

The autonomous driving trials already taking place in China, with the rich array of different vehicle types in use on Chinese roads, will produce a wealth of useful data for this domain. This data can then form the basis of sophisticated new applications. "We are very excited about our first shipping product in China," Giallorenzo beams. "The Chinese electric vehicle market is one of the fastest growing markets in the world. They are very quick, not just at producing cars, but also at adopting new technology. It's the best breeding ground for our platform, with Dongfeng as a customer, but also with other automakers."

The introduction and growing acceptance of IVY will also change how people in the automotive industry perceive BlackBerry, he predicts. "Most people probably know of BlackBerry QNX as the 'trusted-edge OS foundation,' and I want these people to know that both the QNX and the IVY teams have built a lot of new solutions," says Giallorenzo. "We have been very cautious about offering only the type of complex middleware software that is very hard to make: A customer should not use their resources to do that. They're going to be able to outsource it from us, better and cheaper. We're making it very intuitive to use, leveraging the cloud and AWS.

The ease with which automakers and top-tier suppliers can spin up new services and applications using IVY may surprise them, Giallorenzo says. "Talk to our partners like KPIT or Car IQ about how easy it has been to take their cloud solution and put it into a car. We are making that extremely easy, and we are ready to show it."
His message for BlackBerry's auto OEM customers is simple: "We can make their lives much easier."
Listen to Season 2, Episode 6 of "Get In: The Software-Defined Vehicle Podcast from BlackBerry."